What is a FTTH
FTTH means "Fibre To The Home", refers to the method of transmission for optical communications. Similarly, FTTx means "Fibre To The x", and "x" represents the destinations for the optical communication network.
Specifically, FTTH includes every section of this optical distribution network from data centre to the end users in a residential or workplace.
FTTH not only provides greater bandwidth, but also enhances the transparency of the network, transmission rate, wavelength and protocols.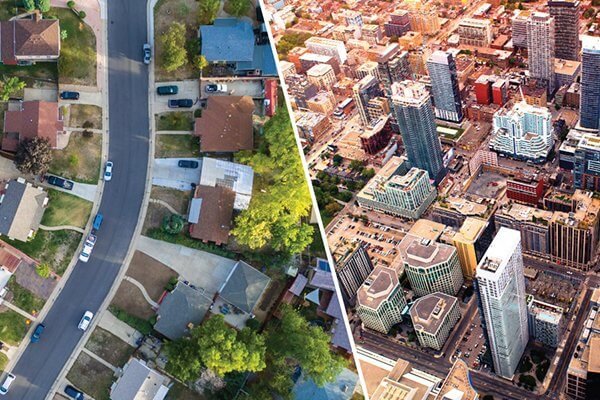 How does FTTH work
The FTTH network is mainly realized with an ODN network. It is the network between the OLT (Optical Line Terminal) in server room and the ONU (Optical Network Unit) in end-users' house. Therefore, ODN provides a transmission channel between data centre and end users.
As is shown above, an ODN (Optical Distribution Network) network is divided into 3 subsystem in 3 colors, which are backbone optical cable subsystem, distribution optical cable subsystem, and access optical cable terminal subsystem. In ODN, the optical cable network are the most essential infrastructure for it handles all the optical information transmission. Fibre optic cable in FTTH network is divided into backbone fibre optic cable, distribution optical cables and FTTH drop cable.
In addition, the ODN is also composed of various fibre optic products such as ODF, fibre patch panel, fibre cabinet, fibre splice closure, fibre optic distribution box. They connect all the optical cables and make the whole optical communication system organized and of highly performance.
Why FTTH Network Matters
The charm of fibre-to-the-home FTTH network is that it has a huge bandwidth. In addition, it is the best solution to the bottleneck phenomenon of the "last mile" from the Internet backbone to the user's desktop.
FTTH Network Design
FTTH has the optical fibre directly connected to the user's home. And its bandwidth, wavelength, and transmission technology are not restricted. Therefore, it is suitable for introducing various new services. All these features make FTTH the most ideal service transparent network and the ultimate way of access network development.
Based on the construction area and types of end user, every FTTH network is different. But they still have things in common, such as network structure and fibre optic products. Following is a HOC's FTTH solution from server room to metropolitan apartment and townhouse in suburbs.