Overhead Fiber Optic Cable Installation Requirements And 2 Cable Types
What Is Overhead Fiber Optic Cable
Overhead fiber optic cable is an optical cable installed on poles. One of the most advantage for the overhead fiber optic cable is that it can use the original overhead wire and pole infrastructure. This overhead laying method can save a lot of construction costs and shorten the construction period.
Since the overhead fiber optic cables are hung on electric poles, they are required to be able to adapt to various natural environments. They are generally used for long-distance lines, and overhead fiber cables are also suitable for dedicated network optical cable lines or some local special sections.
What's The Overhead Fiber Optic Cable Looks Like?
Applications
Overhead optical cables are mainly used for secondary trunk lines and below. And they are suitable for areas with flat terrain and small undulations.
Installation
There are 2 main laying types for overhead fiber optic cables, hanging under steel strands and self-supporting. And basically both adopt the steel wire strand supporting. The laying method is to hang or bundle (wind) erection by means of pole suspension wire.
Difference
Overhead fiber optic cable is susceptible to natural disasters such as typhoons, ice and floods. And external forces and weakening of their own mechanical strength has influences. Therefore, the failure rate of overhead fiber optic cable is higher than that of direct buried fiber optic cable and duct fiber optic cable.
Installation Requirements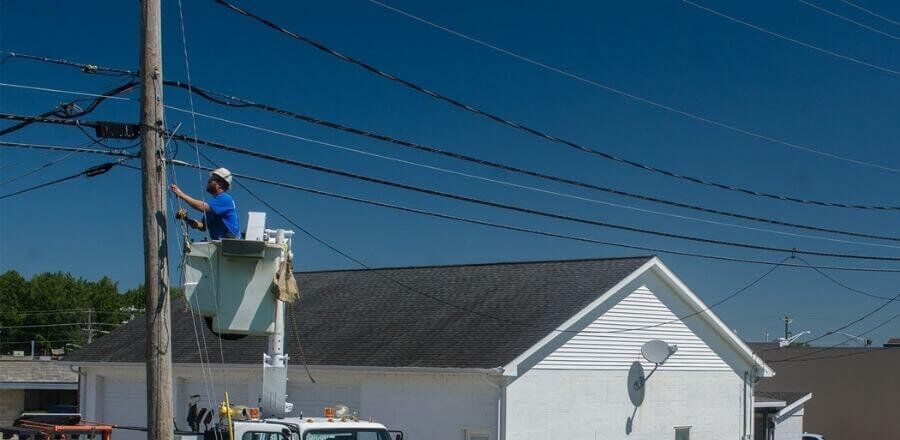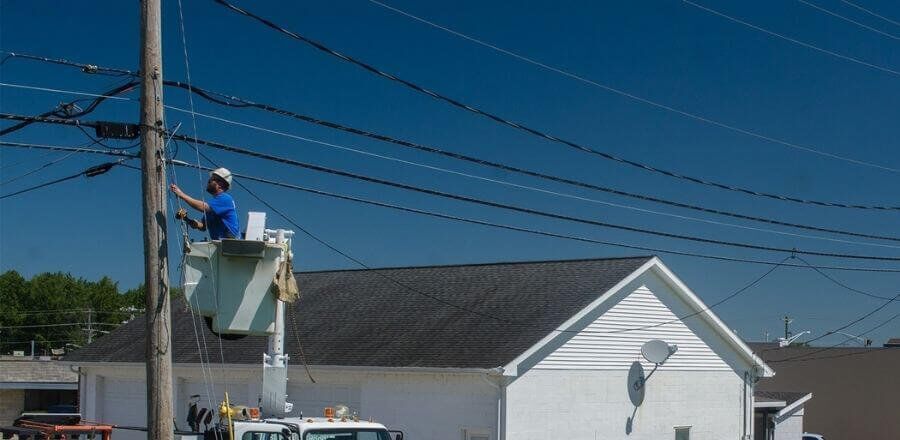 The distance between poles of overhead lines is 25-40 meters in the urban area, and 40-50 meters in the suburbs, and no more than 67 meters in other sections.

Overhead fiber optic cable should adopt a galvanized steel strand with the specification of 7/2.2mm as the suspension wire. For a light armored fiber optic cable, a steel strand with 7/2.0mm or /1.8mm can be used as well.

When comes to the sag of the aerial fiber optic cable, the elongation during the erection process and when it is subjected to the maximum load after erection should be taken into considerations.

A proper and stretched overhead fiber optic cable should be left on poles.

Erect the poles according to the design requirements, put the hanging wires or use the original poles to renovate to meet the specified requirements.

The hanging distance of the optical cable hook is required to be 50 cm with allowable deviation no more than ±3 cm. The overhead fiber optic cable clamps should be evenly hung and the hook pallets are complete. It is also important to choose different sizes of hook models for the outer diameter of various aerial fiber optic cables.
Overhead Fiber Optic Cable Types
As we have known, there are hanging wire and self-supporting two types of overhead fiber optic cable. How do they look like? And what is their installation difference?
Hanging wire type
Fiber cable is fastened on the pole with a hanging wire

There are hooks to hang the optical cable on the hanging wire

The load of the optical cable is carried by the hanging wire
Self-supporting type
Self-supporting structure of the optical cable makes it no need for hanging wire

Figure 8 fiber optic cable and ADSS fiber optic cable are the most common self-supporting fiber optic cable

The load of the optical cable is carried by the self-supporting fiber optic cable itself

Tony Lau is technical manager and co-founder at HOC. He loves writing about content optical fiber communications, specializes in fiber optic cables, FTTH turnkey solutions, ADSS cable, and ODN networks.
Here Are More Worth Reading